Looking for an engaging wellness and well-being solution that meets the needs of mid-market and larger organizations? Easy to configure, flexible, and always updated, the beBetter System is designed to help you achieve meaningful health and productivity business goals. Use our pre-loaded programs or add your own! At every step of the way, you'll get exceptional attention from an experienced wellness account manager. Here's an overview.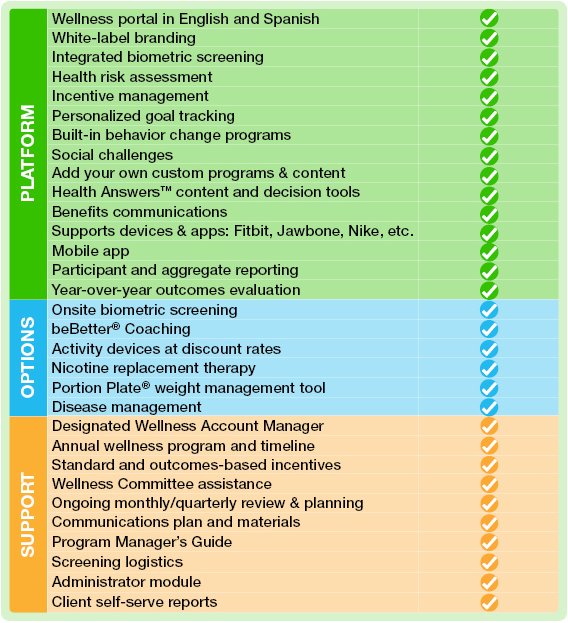 Platform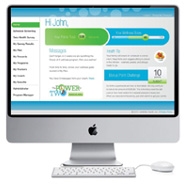 Wellness Portal in English & Spanish
Your beBetter portal is the focal point for all of the data, programs, and components of your wellness initiative. Each employee is given customized wellness goals. As they participate in wellness activities and meet their goals, they'll earn rewards. All incentive management and goal tracking are integrated into the system. Spouses are free.
Health Risk Assessment
Our next-generation HRA generates meaningful, actionable data that provides deep insight into the most important core areas. Our HRA is an integrated component of the beBetter System, creating personalized, dynamic programming that can benefit the employee all year. Learn More
Built-In Wellness Programs
beBetter delivers engaging, built-in wellness programs to your employees with minimal setup, automated registration, and no administration hassles.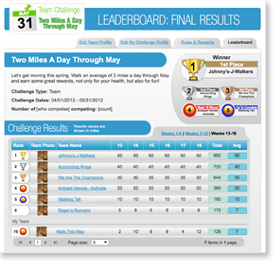 Stress Down is a 6-week program that teaches proven methods for bringing down your level of daily stress.


beThankful and Season's Eatings help bring great health to the holiday season.


Fresh programs are launched several times a year, to keep your solution engaging.
In addition to our built-in programs, we also support your own wellness programs. You can assign points to your programs, create online registration, and manage participation in a variety of ways.
Supports Leading Devices & Apps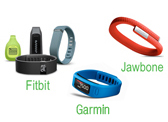 Many employees use popular consumer devices and apps to track their activity. Through a one-step authorization process, employees can sync their tracker account with the beBetter System and start using that data toward wellness goals, rewards, and challenges. Includes Fitbit, Jawbone, Garmin, Misfit, Runkeeper, MapMyFitness, and others. Learn More
Health Answers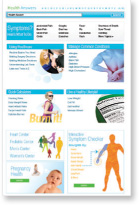 Health Answers is an engaging solution to improve employee health, productivity, medical self care,andsmarthealthcare utilization. Extensive content and decision-making tools are built-in to the beBetter System in partnership with Healthwise®, the leader in evidence-based health information for over 25 years. Learn More

Benefits Support
Your organization can upload benefits communications documents into the My Benefits section of the portal. You can use this area to explain how your wellness program supports your benefit plans, such as HSA contributions for physical activity or premium differentials based on meeting biometric goals.
Mobile App
Our iPhone/Android app allows employees an easy way to track their physical activity on the go. With just a few taps, they can log and upload their data as they work toward their wellness goals and rewards. From within the app, employees can view their physical activity goals and their progress toward achieving them. Learn More
Reporting
Good reporting is the capstone to an effective wellness program. Our system delivers participant reports, detailed client aggregate reports of population health, year-over-year outcomes reporting, participation reports, and custom reports. Learn More
Options
Onsite Biometric Screening
bebetter offers onsite screening to every zip code in the country through a partnership with the industry's leading screening vendor, Summit Health. Our portal includes a built-in Summit scheduler to allow employees to pick a screening date and time. Integrated data feeds pre-populate biometric values right into the HRA; the two data sources are combined to give the employee a comprehensive report and actionable goals.

beBetter Coaching
We pair each participant with one coach, a more engaging and personalized service than most other coaching programs. Our model also uses proactive outbound calls, ensuring the best chance of successful coaching, and unlimited inbound calls. The coach suggests a specific goal, such as weight loss or quitting smoking, and helps the employee develop a personal action plan. The participant can change their goals depending on their motivations and interests.
Nicotine Replacement Therapy
Since 1999, beBetter has been one of the largest non-retail distributors of nicotine replacement therapy, and offers NRT to employers and employees as a strategic optional component in our quit-smoking programs.
Portion Plate® Weight Management Tool
Employees need support to understand the portion control message. They need a tool that plays a direct role in their daily eating habits. That's why we created the original Portion Plate, which can be used as a standalone incentive gift, or integrated into a wellness program. Help your employees make balanced eating a habit. Learn More

Support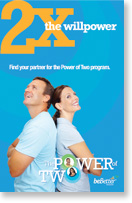 As a beBetter client, you will receive a designated and experienced Wellness Account Manager who will work with you every step of the way to ensure the success of your wellness program. From planning to launch, communications, and evaluation, your Wellness Account Manager is there to anticipate your needs, guide the process, and offer help.
You'll receive letters, posters and emails to promote the programs, and a complete Program Manager's Guide to provide detailed insights into every aspect of a successful wellness initiative. Learn More