Your employees want to quit – and you can help!
One of the best ways you can help your employees to improve their health and reduce healthcare costs is to help them quit tobacco. The cost of employee tobacco use can be staggering – smoking drives high healthcare claims, lost productivity, increased disability, and greater worker's compensation claims.
Not only that, but the majority want to quit! In 2011, 52% of smokers made a quit attempt for more than one day, according to the CDC. Unfortunately, most smokers are ill-prepared and do not have the support they need to successfully quit the habit for good. (Learn more about relapse.)

The Solution: breatheBetter™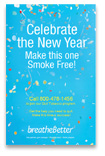 breatheBetter™ is a complete tobacco solution for employers that represents the latest in tobacco cessation research. The program is tailored to each individual's own tobacco use and history, their previous quit attempts, and the barriers that have blocked their success in quitting tobacco. breatheBetter™ includes access to our:
Expert Team: You'll receive a designated Account Manager and help as needed from additional smoking cessation professionals.
Web-Based Program: This highly personalized tool is available as a standalone solution or integrated into beBetter's full wellness solution. (See features)
Health Coaching Option: Our coaches have industry-leading experience in tobacco cessation.
Nicotine Replacement Therapy Option: We offer convenient home delivery of NRT (patches, gum, or lozenges) integrated into a strategic and affordable quit plan for employees.
Benefits and Policy Support: We help you implement premium differentials, incentives, and tobacco free policies.
It's the most cost-effective tobacco cessation program in the market.
For more information on breatheBetter™ or bulk NRT orders, please contact us.
Our Experience
beBetter has over 25 years in health management and is a long-time pioneer in smoking cessation:
Delivered quit smoking programs for more than 1,200 worksites and over a million users.
Recognized by the Wellness Council of America (WELCOA), C. Everett Koop National Health Awards, National Health Information Awards, and more.
Serviced multiple high-volume state QuitLines. In 2000, we launched the West Virginia State QuitLine, the first QuitLine in the nation to offer free NRT to all participants. The coaching program in WV undergoes ongoing study and has shown an average quit rate of 33%.
Became one of the largest non-retail distributors of NRT, with our own private-labeled brand of patches and gum and discounted pricing.
Acquired the Smoke Stoppers® patented program.